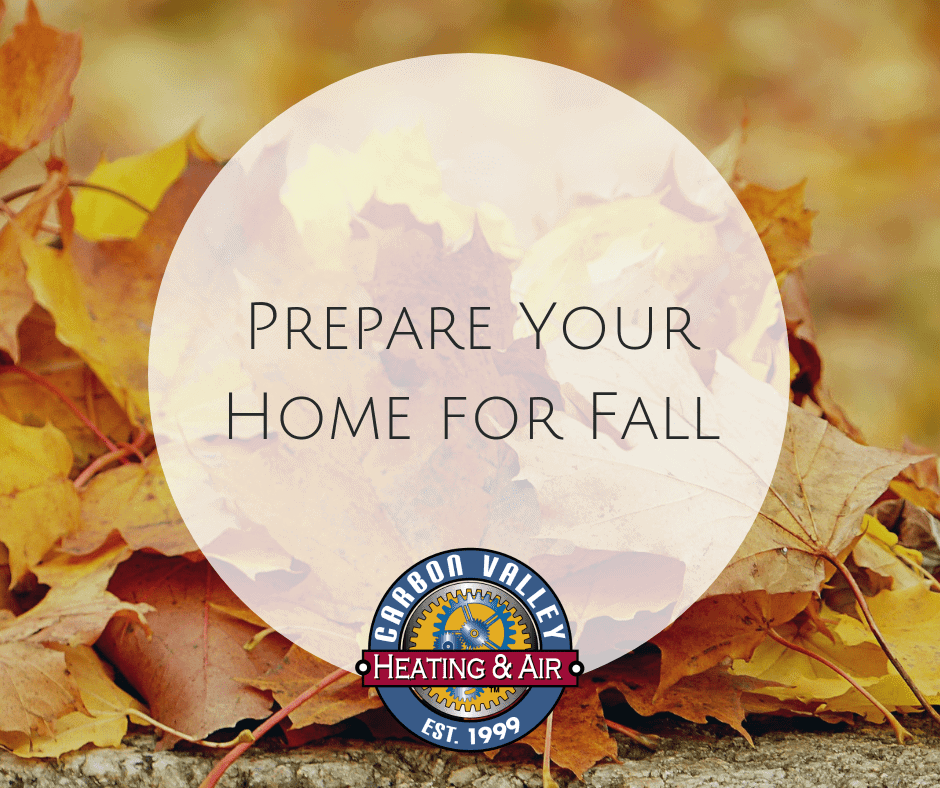 Fall officially kicks off on September 22nd and with only a few weeks until then that means it is just around the corner. Out here in Colorado we're already starting to see the leaves change in the high country, so it's only a matter of time before we trade those warm days for cool afternoons and chilly evenings.
Just because the weather turns doesn't mean you can't stay comfortable at home though. You can get your furnace running or throw some logs in the fire to stay warm and cozy inside when the weather outside starts to turn frightful.
But before you do, run through our fall preparation checklist for your home. Taking a few hours now to prepare your home for the changing of the seasons will save you from repairs and aggravation (and unplanned cold nights) later.
Check Windows and Doors for Drafts
It doesn't matter how efficient or how hot your heating system can get your home, if there is a leak, it will always have to work harder than it should. Checking for drafts and openings in your windows and doors now can also help save on energy costs. If your furnace doesn't have to work as hard to heat your home, it won't need to be drawing energy all the time.
To check for drafts, you can often feel them with just your hand. Slowly pass your hand along the edges of windows and doors and feel for changes in temperature or a slight breeze. If you feel any sort of air movement, the offending window or door will need to be resealed. If you can't feel anything, using a candle can also work. If the flame flickers as you move it along the window, you likely have a break in the sealing.
For additional support in preventing inefficiencies in your home, invest in heavy drapes or curtains. Thin, sheer curtains will let cold air pass through while a thicker curtain acts as insulation between your window and the rest of your home. Cold air will get trapped in between the window and curtain, making it harder to influence your indoor temperatures.
Have your Furnace Inspected
Before you fire up the furnace for the season, have it inspected by a HVAC pro. During their inspection they'll check for any leaks, test the system to make sure it will run efficiently, replace the filter, and do a carbon monoxide check. Checking all of these items now will let you run your furnace through fall and winter without worry.
It's also important to keep extra filters around and replace them every few months. Because your doors and windows are shut for months at a time, dust, dirt, and other pollutants have no way of getting out – except for being trapped in the filter. Check it periodically to see how contaminated it gets and replace frequently to keep your furnace system running efficiently and your air clean.
Winterize Your A/C System
When the furnace is on, you can keep the air conditioning off. Since it won't be used for the next few months, you can cover the outdoor unit to protect it from the elements. Getting doused in snow, fallen leaves, and dealing with freezing nights puts a strain on the air conditioners components. Make things a little easier by preventing these from getting into or effecting the unit.
The same can be done for window units. If it is easily removable, now is a good time to take it out and store it for winter. If that is not a simple task, your next best choice is to have it covered.
Get a Programmable Thermostat
It may be nice to come home to a cozy house, but running the heat all day to keep it that way can get expensive. Installing a programmable thermostat will help you regulate temperatures throughout the day and even when you're not home.
Some smart thermostats also learn your behaviors and can pre-heat your home just before you arrive. Or, if you prefer a cool bedroom to help you fall asleep, you can adjust the thermostat so this is an automatic change versus having to set it every evening.
Clean and Prepare Humidifiers
Cold air also means dry air and this can wreak havoc on your skin and even the way you feel. The ideal relative humidity that feels comfortable is about 40-50%. All along the front range in Colorado humidity can get as low as 33%, on average. This is a difference you can feel and to add some humidity back into the air, you can use a humidifier.
If you already have a humidifier, and it has been sitting for the last few months, now is a good time to get it clean and prepared. The best way to do this is with white vinegar. To get started, simply fill the base of your humidifier with the vinegar, allow it to sit, then after a period of time use a scrub brush to remove any built up residue. Rinse the components, reassemble, top off with water, and enjoy comfortable humid air in your home.
Clean the Fireplace and Chimney
If your home has a fireplace or chimney, you'll want to have it cleaned in preparation for its use. After burning a few logs you'll likely notice a build up of ash or charcoal all along the interior walls of your fireplace. If you were to start using it again this year, that ash can get unsettled and enter the air in your home. To make sure you minimize exposure to any remnants of last years fires, clean out the fireplace and chimney. This will also make sure any smoke can easily move up through the chimney unencumbered. Smelling like a campfire is ok after a weekend in the mountains, but not so much when it happens in your own home.
Install New Lighting
Another piece to consider is updating or installing new lighting in your home. With the time change and shorter evenings it'll start to feel like you're spending a majority of your day in the dark. While this is fairly true in the later months of the year, you can beat those winter blues by installing or updating the lighting in your home.
Bright, but warm, lights will keep that cozy feel without letting you get seasonal affective disorder. It's also a great time to install energy efficient light bulbs that use less energy than their incandescent counterparts.